New designer table lamp ITSU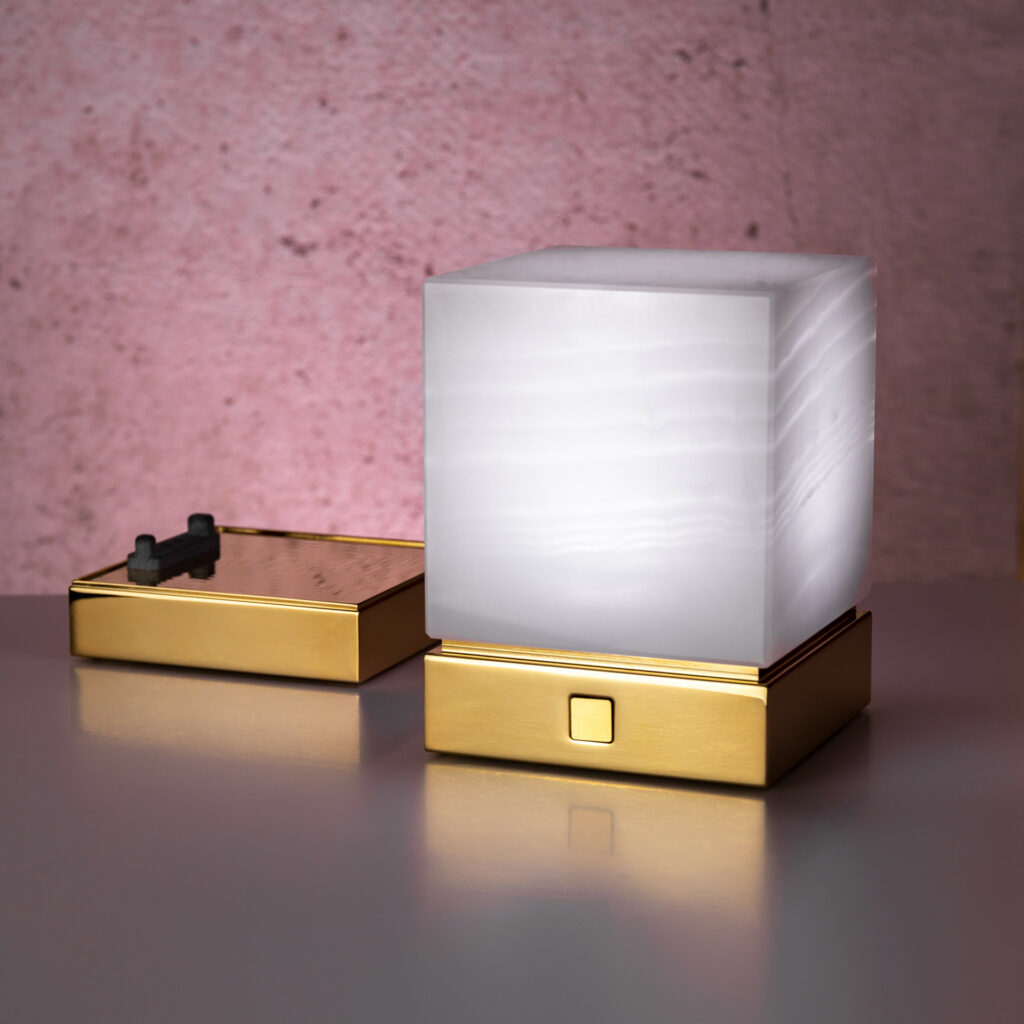 Your unique designer lamp
The light fixtures made of solid onyx marble are lovingly handcrafted in an Italian manufactory. This preserves the unique character of each stone and its continuous grain. The cube is supported by a heavy brass base, which is optionally real gold-plated or chrome-plated. 
The result is a dreamlike play of light and reflections from your personal light source that will catch everyone's eye.
The sixteen integrated state-of-the-art RGBW LEDs of ITSU One and Trio create an almost infinite color variance with 16 million colors. The brightness is dimmable according to the desired mood, and control is intuitive via push button and gesture control, Bluetooth (BLE) or Zigbee. Lighting animations such as the candle simulation, create a cozy atmosphere on demand. Modern onyx design lamp from LUXONUM.
What is the difference between lamp and luminaire?
You may think it is splitting hairs and you are right. You will also find both terms on our site. However, technical documents clearly distinguish between a lamp (actually the actual bulb or light source) and the luminaire (luminaire base, luminaire shade and, if applicable, the socket).
Why is this important? In everyday life, this distinction does not matter, it has become commonplace to use the term lamp for the actual light fixture and is used synonymously. Therefore, we make no distinction on our site, but as soon as it comes to the technical documentation, a clear terminology is important to avoid misunderstandings.
Watch our video showing you the lamp with its onyx cubes. These are interchangeable You can choose your personal stone in our store. Also get an insight into the functions and operation of ITSU. How you can change the color and LEDs of ITSU using only gestures and the button. How to charge the lamp and monitor the end of charging. 
Also see how to connect ITSU with our free app "LUXONUM BLE" to control the lamp with your smartphone. See how easy it is to replace the Onyx cube and how you can create your very own unique Onyx lamp with ITSU. 
For even more information like this video or photos of our light objects, check out our social media channels below. Connect with us! Also, download our lookbook for more inspiration on how you can use these beautiful objects and about all the variations and options.